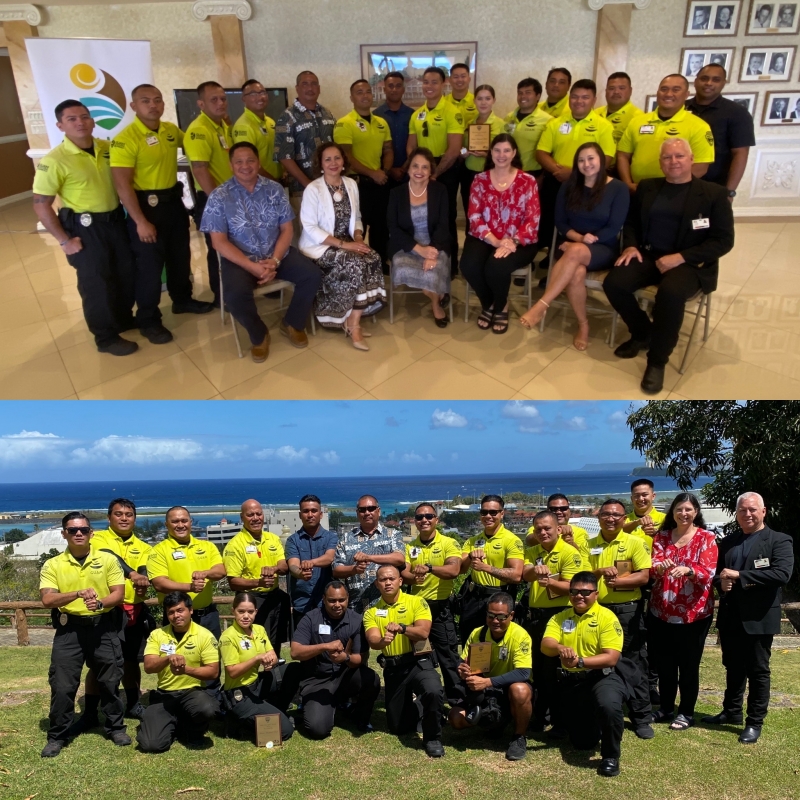 Seven VSOs awarded for going above and beyond the call of duty
(Hagåtña, Guam) The Guam Visitors Bureau (GVB) recognized the achievements of its Visitor Safety Officers (VSOs) at a small award ceremony on February 19, 2020 at the Government House in Agana Heights. The VSOs were also supported and thanked by Governor Lou Leon Guerrero, GVB Board Chairman P. Sonny Ada and Visitor Safety and Satisfaction Chairman Sam Shinohara.
The VSO program started in 2014 with the goal to provide the presence of safety & concierge to the foot traffic of Tumon. The program saw many successes and was expanded to the historic capital of Hagåtña in May 2019.
"GVB recognizes the success of this program would not be possible without the collective efforts of our VSOs who are the heart of this program," said GVB President & CEO Pilar Laguaña. "This ceremony was our opportunity to show our appreciation to the VSOs for their hard work and for going above and beyond their call of duty. They support our mission in keeping Guam a safe and satisfying destination for our residents and visitors."
During Fiscal Year 2019, VSOs responded to over 5,000 safety & security related issues that included reporting damaged infrastructure, public intoxication, loitering, and water-related incidents. In addition, they have provided over 18,000 concierge services that include traffic & crosswalk assistance, providing directions, taking photos, and recovering lost property.
GVB's Board and Management commended the VSOs for their outstanding contributions and additionally presented seven special awards:
Recognition of Service – VSO Fletcher Persinger
Fletcher Persinger was amongst the original set of Visitor Safety Officers when the program was first launched in 2014. His leadership and work ethic led him to become the overall shift leader for the VSOs. During his time with the program, he led through example and demonstrated his commitment to ensuring his team was safe, prepared and well trained.
Håfa Adai Spirit Award – VSO Marissa Maryland-Boak
The heart of the Visitor Safety Officer program is in its concierge service. As the frontline of the island's tourism industry, the VSO program has been an extension of Guam's renowned hospitality and Håfa Adai spirit. VSO Maryland-Boak has gone above and beyond to exemplify this spirit.
Integrity Award- VSO Donny Atoigue
This award is presented to VSO Atoigue for demonstrating high standards of ethics and integrity while performing his duties as a Visitor Safety Officer. VSO Atoigue has demonstrated genuine honesty through his actions and commitment to doing the right thing and always rising to the occasion.
Lifesaving Award – VSO Jacob Pablo
This award is presented to VSO Pablo, who was directly responsible for saving human life in three separate instances, which included a water emergency, a medical emergency, and locating a missing person.
Rookie of the Year Award – VSO Aiden Ferrera
This award, received by VSO Ferrara, is to recognize and distinguish a new VSO who has shown outstanding performance in his current position.
Beach Safety Officer of the Year Award – BSO Kayven Ligmai
GVB saw the need to add a presence of safety to northern Tumon where there was no lifeguard on duty to protect the safety of patrons. It implemented a new role in the VSO program known as the beach safety officer, whose duties were not only to provide lifeguarding services but active patrols to minimize thefts and safety hazards in Tumon bay. The Beach Safety Officer of the Year is awarded to BSO Ligmai, who has achieved outstanding success in his duties.
Visitor Safety Officer of the Year Award –VSO Christopher San Nicolas
The Visitor Safety Officer of the Year Award is presented to VSO San Nicolas, who exemplified outstanding service and went beyond the call of duty to bring the VSO program to new heights. San Nicolas has demonstrated leadership and has inspired his team to continue their best efforts. 
Laguaña added, "We also commend VSO Kurt Sandbergen, who recently rescued and successfully resuscitated a near-drowning victim at Ypao Beach. The woman returned to GVB with her family the next day and extended her gratitude, even reaching our team over email to say she was recovering well. I am sincerely touched by another life that was saved and the passion our VSOs have for our island paradise. Un Dangkulo na si Yu'os Ma'åse' to the VSO team."
Media Contact: JOSH TYQUIENGCO - Public Information Officer