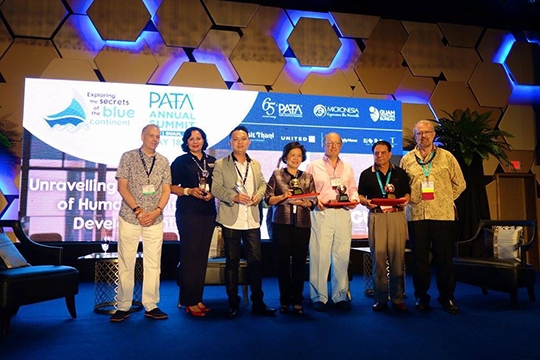 Congratulations to the recipients of the PATA Awards presented at the PATA Annual Summit 2016!
Pictured from left: Mario Hardy, PATA CEO; PATA Face of the Future: Danny Ho, Executive Pastry Chef, Hotel ICON, Hong Kong SAR; Life Membership Award: Phornsiri Manoharn, Vice Chairman, N.C.C. Management & Development Co., Ltd., Thailand; Award of Merit: W. Scott Supernaw, Managing Director - International, Tauck, Inc., USA; Chairman's Award: Basant Raj Mishra, Executive Chairman, Temple Tiger Group of Companies, Nepal; Kevin Murphy, PATA Chairman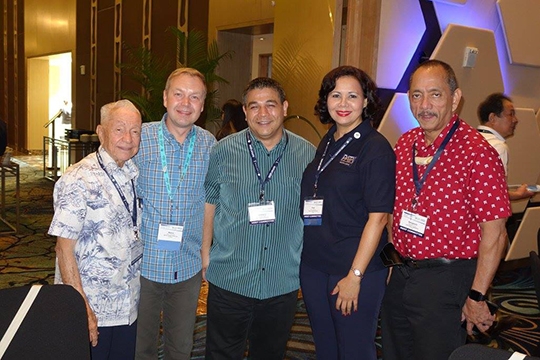 Highlights from the Pacific Asia Travel Association (PATA) Annual Summit and United Nations World Tourism Organization (UNWTO) ministerial debate on Pacific Island Tourism held at the Dusit Thani Guam Resort from May 19 - 21, 2016.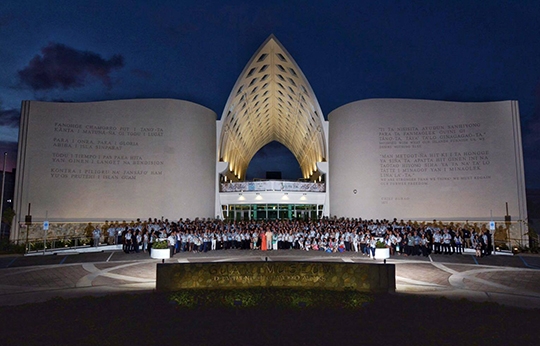 The PATA Annual Summit delegates are all together in this group photo taken on the front steps of the Guam Museum. Afterwards, these world tourism leaders experienced a taste of Chamorro culture, history, music, and cuisine at a grand welcome fiesta hosted by the Guam Visitors Bureau at the Plaza de España.
.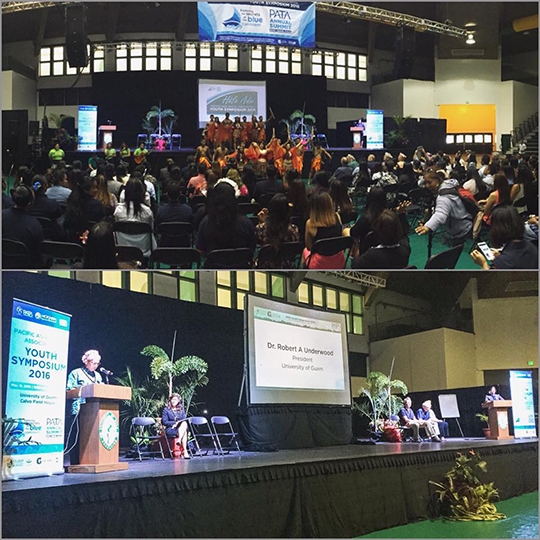 The 2016 PATA Youth Symposium is underway at the University of Guam Calvo Field House. Under the theme "Weaving Our Islands' Tourism Futures Together: Protecting culture, enhancing quality of life, and generating an environmentally friendly island experience," university and high school students will learn from and engage in discussion with some of the global tourism leaders and experts who are on Guam for the PATA Annual Summit.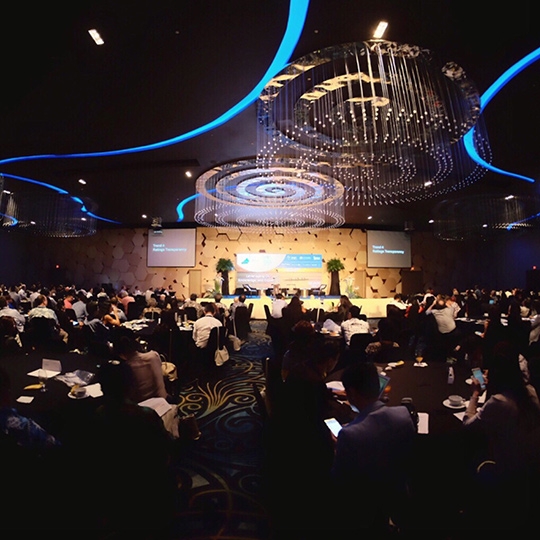 Record attendance at #PAS2016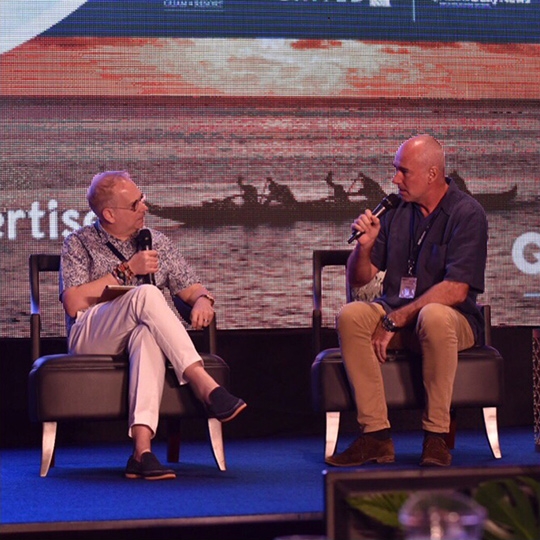 PATA CEO Mario Hardy and Andrew Dixon, Owner - Nikpi and Cempedak Islands, at the "Same Same But Different" breakout session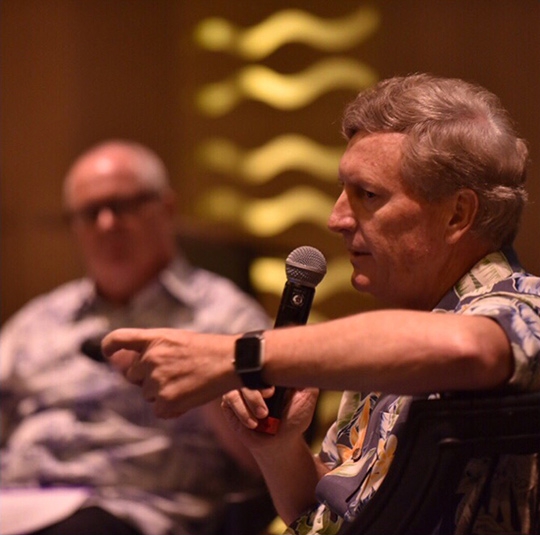 Mark Schwab, CEO - Star Alliance, speaks at "The New Edge–Forseeing New Travel Patterns" breakout session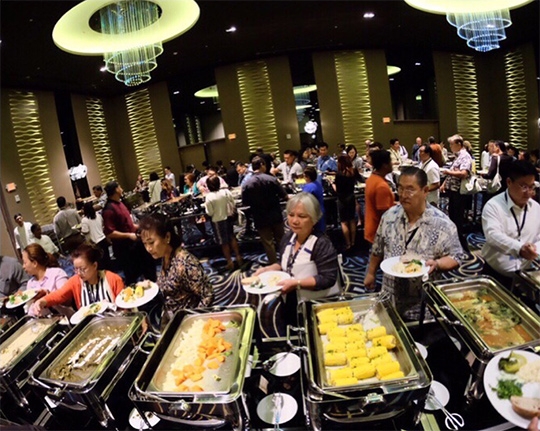 Lunch break at Dusit Thani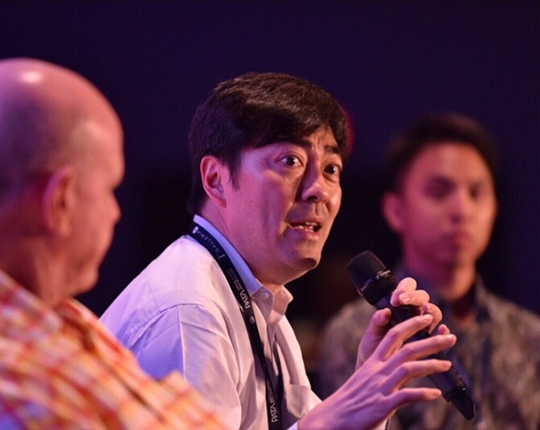 Morris Sims, CEO & Co-Founder - Circos Brand Karma, speaks during panel discussion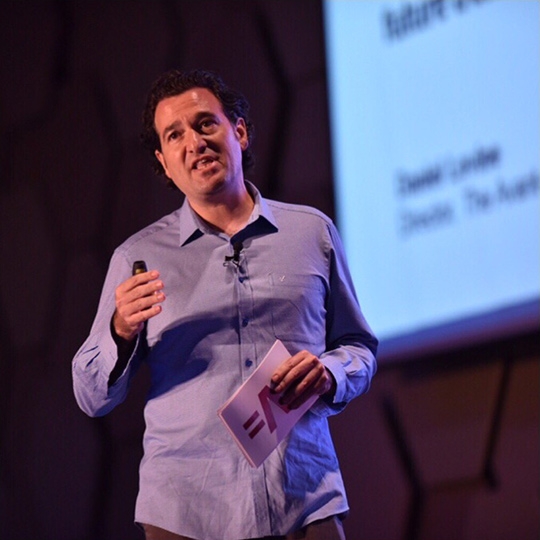 Daniel Levine, Director - The Avant-Guide Institute, delivers his presentation
Photography by Anthony Tamayo Jr.  
---
(May 17, 2016 – Tumon, Guam) The Pacific Asia Travel Association (PATA) Annual Summit 2016 (PAS 2016) has locked in an impressive roster of dynamic international guest speakers and panelists, including the Minister of Tourism and Culture of Seychelles, the Honorable Alain St. Ange, who is slated to deliver the keynote address at the main conference on May 19, 2016.
Hosted by the Guam Visitors Bureau, with sponsors Dusit Thani Guam Resort and United Airlines, PAS 2016 will take place from May 18-21 at the Dusit Thani Guam Resort in Tumon.
Under the theme 'Exploring the Secrets of the Blue Continent,' PAS 2016 will bring together 350-400 international thought leaders, industry shapers, and senior decision makers who are professionally engaged with the Asia Pacific region to examine what is required to take Pacific Island travel trade to the next level of sustainable tourism.
The four-day Summit serves as the Association's executive and advisory board meetings and annual general meeting. PAS 2016 will include a one-day international conference that addresses travel and tourism industry trends and topics. Additionally, the half-day PATA Youth Symposium is open to students and young professionals who wish to engage discussion with industry professionals on various topics relevant to the region.
This year, in partnership with the United Nations World Tourism Organization, PATA will also hold a half-day Pacific Islands Ministerial Debate on Pacific Island Tourism. Conference delegates will receive complimentary access to this high-level, invitation-only discussion.
Other confirmed speakers include Andrew Dixon, Owner, Nikoi and Cempedak Islands; Daniel Levine, Director, The Avant-Guide Institute; Derek Toh, Founder and CEO, WOBB; Eric Ricaurte, Founder and CEO, Greenview; Mark Schwab, CEO, Star Alliance; Michael Lujan Bevacqua, author and lecturer at the University of Guam; Morris Sim, CEO and Co-Founder, Circos Brand Karma; Sarah Mathews, Head of Destination Marketing APAC, TripAdvisor; and Zoltán Somogyi, Executive Director for Programme and Coordination, World Tourism Organization.
"We are excited to help assemble this impressive lineup of guest speakers for the PATA Annual Summit," said GVB General Manager Nathan Denight. "The different array of topics will no doubt move the global tourism industry forward with thought-provoking and innovative ideas. We certainly are working hard to ensure our delegates and guests have a unique experience in our island paradise and we also invite anyone still interested in the summit to join us, including our young people that may want to participate in the PATA Youth Symposium."
To complement the Summit, GVB and the PATA Micronesia Chapter have organized a variety of itineraries to give delegates an opportunity to experience the essence of Guam and the Micronesia region. Delegates are offered extensive touring options to explore Guam's many attractions, each highlighting the island's diverse range of cultural, historical and recreational offerings.
To learn more, or to register for the PATA Annual Summit, visit
www.pata.org/portfolio/pas-2016/
. For inquires on travel packages to Micronesia, contact Mystical Tours & Adventures directly at 
[email protected]
 or visit their website at mysticaltaguam.com.  
---
  About PATA
Founded in 1951, the Pacific Asia Travel Association has gained international acclaim for acting as a catalyst for the responsible development of travel and tourism to, from and within the Asia Pacific region. PATA provides aligned advocacy, insightful research and innovative events to its member organizations, comprising 97 government, state and city tourism bodies, 27 international airlines, airports and cruise lines, 63 educational institutions, and hundreds of travel industry companies in Asia Pacific and beyond.
Download PATA Annual Summit 2016